Click on a cat to learn more!
---
               
     
---
Current Special Needs Lifetime Residents:
---
Space Ghost aka "Space"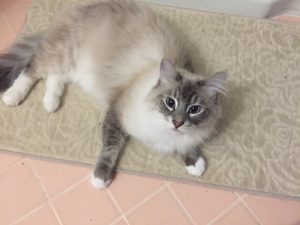 Sex: Male
Age: 5
Eyes: Blue
Coat: Long haired blue lynx point snowshoe siamese
Breed: Ragdoll mix
Special Needs: FLUTD/FIC w/ complications from a botched PU surgery
Space is a big puffy cloud of love and fluff. He has had multiple surgeries to fix his poor urinary tract. He has his own special food and we have to take extra care in making sure he doesn't get urine scalds because of how different he is down in his nethers from having a Perineal Urethrostomy. His favorite pastimes are cuddling people, cuddling cats, being cuddle by people and cats, sitting in laps, looking majestic, and staring lovingly at people. He will sometimes even lay on Cat Dad's face at night and try to sleep there… He is a talented musical meower with a beautiful little voice! Space was the first special needs cat rescued by Paula, so he is Rocket Cat Number 1! Space is also the Rocket Cat mascot and cat depicted in our logo.
Preeety boyyy~~
Cuddle Extraordinaire
He knows he is the king of the house.
---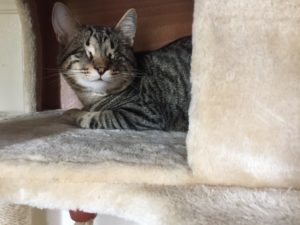 Sex: Male
Age: 2
Eyes: None
Coat: Short haired brown tabby
Possible Breed: Short haired Bengal x Tabby mix
Special Needs: Blind
Purrsonality: Watson was born with deformed eyes and eyelids (microphthalmia and entropion) and was very sick as a kitten which stunted his growth. As a result, here is a small blind soft boy. Raccoon walker. Moves ears around like a BAT using his crazy 6th sense to get around. Do not pet in cat tree. Curly tail tip.
Baby Watson hiding in a tiny Strawberry Bed and Watson now rolling on the floor for pets!
Baby Watson fun times with Keanu
He thinks he is sneaky.
Tiny watson and Watson now! He is the self-appointed prince of the house.
---
Flapjack aka "Flappy"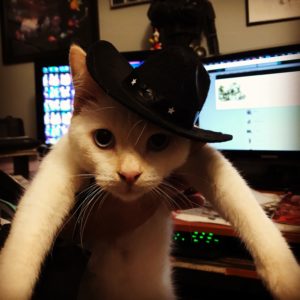 Sex: Male
Age: Less than a year
Eyes: Blue
Coat: Short haired snowshoe flame point
Breed: Siamese mix
Special Needs: Neurological Issues/Deformed Pelvis
Purrsonality: Wobbly pancake boyo has forever kitten brain and is made of love. Paula and Venus saved him from the streets of Pittsburg. Originally assumed to have CH, now assumed to either have some deformation in the pelvis or had a young breakage. He couldn't even walk when he got here and now he runs all over the place and plays all day. He is the sheriff of the cats. He has become HUEG. Brothers were dwarven and had weak lungs and sadly passed away. Likes to roll around in litter boxes like a weirdo. Makes the cutest sounds on the planet.
Baby Flappy when he couldn't really walk.
Growing Up!
PANCAKE FORM.
Growing even more!
---
Mogwai, the Halloween Cat aka "Moggie"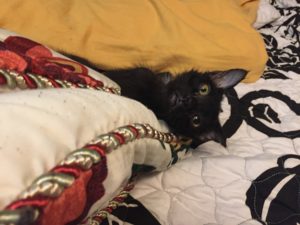 Sex: Female
Age: 1
Eyes: Yellow
Coat: Short haired black
Breed: Domestic short hair
Special Needs: Deaf in one ear/deformed other ear, chronic eye & ear issues
Purrsonality: Halloween Gremlin of cuteness. Makes muffins on hardwood floors. Loves to play. Was skin and bones and losing her fur when she was first picked up, now she is a shiny beauty. Forever winky eye and head tilt.
Moggie was a real little gremlin when we first got her!
Now she is a silky beautiful lady~
She can open both of her eyes but still prefers to keep her left eye shut or squinting most of the time.
---
Coco (Belongs to Venus)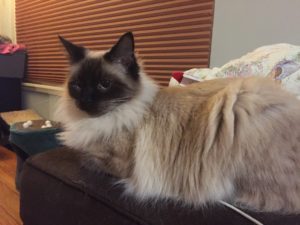 Sex: Male
Age: Less than a year
Eyes: Blue
Coat: Long haired chocolate point
Breed: Siamese mix
Special Needs: Blepharitis
Purrsonality: Adorable soft poof of love who needs daily eye drops. Will purr and stick his head under your chin and hug you lovingly. Way too pretty to be the random stray that he is.
He loves to chill on the couch with people
Sitting prim and proper!
He has a glorious fluffy tail!
---
Our other resident cats can sometime be seen on twitter!