Special Case Cats:
---
Atlas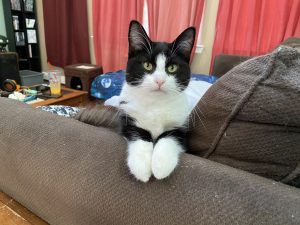 Status: Resident, Lifetimer, hopefully adoptable some day!
Sex: Male
Age: Young Adult
Eyes: Yellow-Green
Size: Small/Underweight
Coat: Black and White Tuxedo
Breed: Domestic Short Hair
Special Needs: At first.. no.. but now yes… but.. how??
This is his story…
When we rescued Atlas, he was one of our "at-risk" cat rescues. We didn't have tons of extra space for new cats or much cash to spare at the time, but we knew that if he wasn't rescued at this point, that he wouldn't survive. Seeing as he had no special needs, we expected he would be easy to take on, socialize, and adopt out.  He was definitely not a cat we ever ever expected to be one of our most confusing special needs cases.
Atlas was rescued from a hoarding situation near Clear Lake, CA in July 2020. He was riddled in fleas, ear mites, had worms, a mild upper respiratory cold, needed socialization… basically, all the "normal" things we tend to deal with and expect to treat from intaking these at-risk cats. Off to the right is a photo of him shortly after he was rescued. He could stand fine and he acted like a normal kitten.
So we treated these "normal" issues and he was, by all standards, a completely normal cat that we were just working with to socialize better until November, 2020. He really came around socially and became extremely sweet. Here is a video of him from November 2nd:
Altas lovessss petsssss pic.twitter.com/gfPYM5ZsCR

— 🚀RocketCatRescue🐈 (@RocketCatRescue) November 3, 2020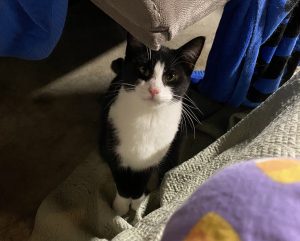 On November 13th, I noticed he had an odd spring in his step, we wondered if he had injured or sprained his foot. He didn't act like it hurt and we couldn't find anything wrong with it, so we kept an eye on it…. Then, over the next week, he developed ataxia, then he became extremely wobbly in a manner of days while attempting to walk. We had just dealt with a cat that had similar symptoms over the last year that had FIP (Hagrid), and we were extremely worried that is was the same issue. If it were FIP, and it were treatable at all, it was going to be extremely costly and it would be better to treat it as soon as possible. So we looked into that being a possibility.
We took him to the vet and had tests done. He tested negative for FIP and they found absolutely nothing wrong physically or on anything off or weird in his test results. Unlike Hagrid or cats we have dealt with that have had FIP, he didn't have a fever or a lack of appetite. He also still wanted to play, snuggle, and generally act like a normal cat! His eyes were clear, and the only symptom he had that could even align at all with FIP was the ataxia.
Earlier last year, his sister, Mouse, was rescued by us and when we took her to the vet… she was unfortunately in late stage wet FIP and had to be immediately put to sleep… So FIP was still on our minds as a possibility despite the negative tests. When Hagrid had it, he tested negative too because it was all located in his brainstem. I continued researching every possibility I could think of myself as we continued to have him
So worried about Atlas. I noticed last Friday that he has this odd spring in his step… and now he is very wobbly. 🙁 I really really really hope that it's not FIP. pic.twitter.com/ZlvPBbKcLi

— 🚀RocketCatRescue🐈 (@RocketCatRescue) November 19, 2020
Atlas is good baby. He lay is arms like smol bundle. We still don't know what is causing his ataxia. He is probably going to need more tests. pic.twitter.com/BzQc14VTSX

— 🚀RocketCatRescue🐈 (@RocketCatRescue) November 21, 2020
Unfortunately, he just continued to get worse and worse. He started acting like a paralyzed cat and dragging his back legs around. He could still get to the litter box fine though and he appeared to be able to feel his feet and move his tail, so nothing indicated that he was actually paralyzed. He also still had no fever or lack of appetite.
Atlas is getting X-rays tomorrow because his ataxia has only gotten worse & his blood tests didn't indicate anything. He was 100% normal 2 weeks ago. RCR is in the middle of a move right now and everything has been very expensive lately. >.< Any help is greatly appreciated. pic.twitter.com/3Bxfdfwue3

— 🚀RocketCatRescue🐈 (@RocketCatRescue) November 25, 2020
He's been sitting in my lap while I worked today. pic.twitter.com/dth2Q5gZBH

— 🚀RocketCatRescue🐈 (@RocketCatRescue) November 25, 2020
He's such a sweet little guy! I really hope he is okay. ❤️❤️❤️ pic.twitter.com/gh551d2siW

— 🚀RocketCatRescue🐈 (@RocketCatRescue) November 25, 2020
Updates on Atlas: https://t.co/si7jCdrPJn

— 🚀RocketCatRescue🐈 (@RocketCatRescue) November 26, 2020
With every round of tests and X-rays, the vets couldn't find anything. He continued to stay upbeat though! Still acting like a normal cat.
Altas likes to hug hands and pet himself with them. pic.twitter.com/sDq7T9bMuk

— 🚀RocketCatRescue🐈 (@RocketCatRescue) November 28, 2020
At least he still wants to play even if it involves scooting around like a seal pic.twitter.com/RUaqE2zEka

— 🚀RocketCatRescue🐈 (@RocketCatRescue) November 28, 2020
More of Atlas being cute because I am going to spoil him as much as I can while trying to figure out what is wrong with him. Love helps all heal in some way! pic.twitter.com/y4f4XufaBU

— 🚀RocketCatRescue🐈 (@RocketCatRescue) November 28, 2020
Documenting Altas's current wobbly walking status last night. (And then Shenzi decided to MEOW-WOW!) Really hope we can get to the bottom of what is causing this. #specialneedscats #catrescue #catsoftwitter pic.twitter.com/h4tsWGKstR

— 🚀RocketCatRescue🐈 (@RocketCatRescue) November 28, 2020
Unfortunately, his walking just kept getting worse and worse.
We're trying to get some funds together to take Atlas to a neurologist. He is even worse than yesterday and it's going to be extremely expensive if we take him in, we definitely cannot afford it without some help right now. https://t.co/YSWAarDblp #specialneedscats #catsoftwitter pic.twitter.com/t63dSgb3kC

— 🚀RocketCatRescue🐈 (@RocketCatRescue) November 29, 2020
Still no fever, still eating, still can't walk. 🙁 Please donate towards Atlas's diagnostics if you can, link in reply. pic.twitter.com/oIz0I13ilh

— Grimmorph (@Grimmorph) November 30, 2020
We kept spreading the word, saving money for a neurologist, and trying everything we could in the meantime that we could have done.
Sadly, we're still trying to figure out what is going on with Atlas, next step is to see a neurological specialist.. which it seems are all insanely busy/unavailable unless it's an emergency.. and we REALLY can't afford it to do something like that right now. https://t.co/m8UFtskbPP

— 🚀RocketCatRescue🐈 (@RocketCatRescue) December 3, 2020
We're also still trying to raise money to get Atlas to a specialist and pay off the massive care credit bill. He does still love his Churu though. ❤️❤️❤️ pic.twitter.com/g3GRWRIZn7

— 🚀RocketCatRescue🐈 (@RocketCatRescue) December 3, 2020
Atlas stayed positive and determined for the next couple months, seeming like maybe he was actually improving?
Go Atlas GOoOo! https://t.co/9Fba0BT4QH

— 🚀RocketCatRescue🐈 (@RocketCatRescue) December 5, 2020
SCREAMING ABOUT ATLAS!! As @Grimmorph said "Atlas has been WALKING every so often. Not great, but serious improvement!" #catrescue #specialneedscats pic.twitter.com/c2kRIxLWkP

— 🚀RocketCatRescue🐈 (@RocketCatRescue) December 18, 2020
Sadly even after these strides, he continued to decline. In January of 2021, his ability to use the litterbox properly started to decline, specifically when it came to urinating in it. He started urinating on the floor without even seeming to notice it was happening.
Also here is Atlas waving and meowing at me, then falling over because he is too cute and still wobbly. #CatRescue #SpecialNeedsCats #CatsOfTwitter pic.twitter.com/AWoYJAzWij

— 🚀RocketCatRescue🐈 (@RocketCatRescue) January 7, 2021
We are still trying to figure out what is wrong with him. We noticed he was really touchy about us cleaning his chronically dirty ears so we suspected maybe he had a horribly inner ear infection? Or maybe a polyp like Earl Grey? So he went to the vet and had his ears deep cleaned and looked at as well as his head x-rayed… and they still didn't find anything.  (Which was another enormous vet bill.) He is finally going to the neurologist very soon though, his appointment is finally coming up on January 26th, and we are still saving up money as we know the appointment is going to cost us a lot. During the time we've been working on him, as we still wait for the IRS to finish processing our 501(c)(3) paperwork, we also took on two kittens who had been tortured and burned with a torch by some horrible person that needed immediate rescue and treatment. We also had to move to a new location which was extremely costly and we are still paying off our care credit debt from last year in the middle of this crazy world that we've been living in.
We are dedicated to saving these cats though, and determined to get to the bottom of this, so if you can help us in any way, please do!
---
1-26-2021 UPDATE:

Atlas had his appointment at the neurologist. Sadly, the news isn't great. Despite everything, the neurologist looked over all his paperwork and observed him and said he is 90% certain that it's FIP at this case. We feel awful for making him wait so long, and we really hope it's not too late to treat him. He still has an appetite, no fever, enjoys playing, snuggling, and really has a will to live.. but if we want to treat him and possibly save him we're gonna need your help.
At this point it's basically:
1: run $5k of diagnostics, possibly still find out it's FIP and have to raise an additional $4k.
2: begin treatment as FIP, make further decisions based on improvement or lack thereof, approx $4k cost.
3: have him humanely euthanized.

— Grimmorph (@Grimmorph) January 26, 2021
Things you can do to help:
Signal boost our case on your social media by talking about it and linking back to us in some way
Share a link to this page with your friends, family, and coworkers
Share a link to our Ko-Fi page
Buy us something from our Amazon wish list (so we can put more of our own money towards this)
Buy something for yourself from our etsy shop (or a gift for a friend or maybe even your cats!)
Donate to our Ko-fi!
Remember, even if you can't donate, just sharing this can really help us!
In the meantime, I'm gonna try to get a fundraiser together for all of this too.
Thank you for listening!

Ko-fi: https://ko-fi.com/rocketcat
AMAZON WISHLIST: https://www.amazon.com/hz/wishlist/ls/2QBJZ1KUEOTJZ?ref_=wl_share
Etsy Shop: https://www.etsy.com/shop/RocketCatSwag (Coupon Code: SALE4ATLAS to get $5 off an order of $15 or more!)
Twitter: https://twitter.com/RocketCatRescue